Free

Free

Free Downloadable Civil 3D Book

Get It
Tutorial: Civil 3D Existing and Proposed Design Surfaces
Introduction to Civil 3D Existing and Proposed Design Surfaces
What are Civil 3D  existing and Proposed design Surfaces? Let's find out in this online training course and tutorial, a part of the Civil 3D essentials book and how-to manuals.
ABOUT CIVIL 3D  EXISTING AND PROPOSED DESIGN SURFACES
Conventional field survey data usually only collect existing ground surface at specific spots. Typically, these are locations with particular features that may impact the design of the proposed design project. These features may include existing utility infrastructures, manhole rims, inverts, or pipe fittings. LiDAR technology and photogrammetry are facilitating the survey data collection of existing surfaces. However, they are not always practical or cost-effective. Especially for legal boundary determination, or engineering design.
Therefore, we should create a terrain model (or surface) in the office, to fill in the gaps in the field existing field survey. The creation of an existing and proposed surface has several advantages:
First, we can get information, by an approximation, at locations not originally surveyed or proposed design;
Second, we can compare several surfaces (existing, proposed design, cut, fill, stripping, etc.) to estimate earthworks quantities;
And third, they facilitate field stakeout of the proposed design surface.
Civil 3D has a set of tools that allows you to use basic drawing objects (points, polylines, poly faces, DEM files, and more) to create existing and proposed design surfaces.
Civil 3D makes it also possible to create different kinds of surfaces, including:
An Existing Ground surface, to replicate the surface before any development operation.
A Stripping Surface. It is essentially the natural ground with the layer of topsoil, typically the first 10cm or 4in to 30cm or 12in, removed. This operation allows construction to be done on clean and stable ground. The topsoil can be reused at a later stage on the current project or a separate one.
And lastly, the Final Proposed Design Surface: This is the finished or final grade surface of the site.
We also have intermediate surfaces. These include the proposed design subbase and base surfaces. They are not always shown on construction plans, but calculated instead, from typical cross-sections.
This figure summarizes the different types of surfaces (cut, fill, stripping, existing ground, proposed design)  we will most frequently use.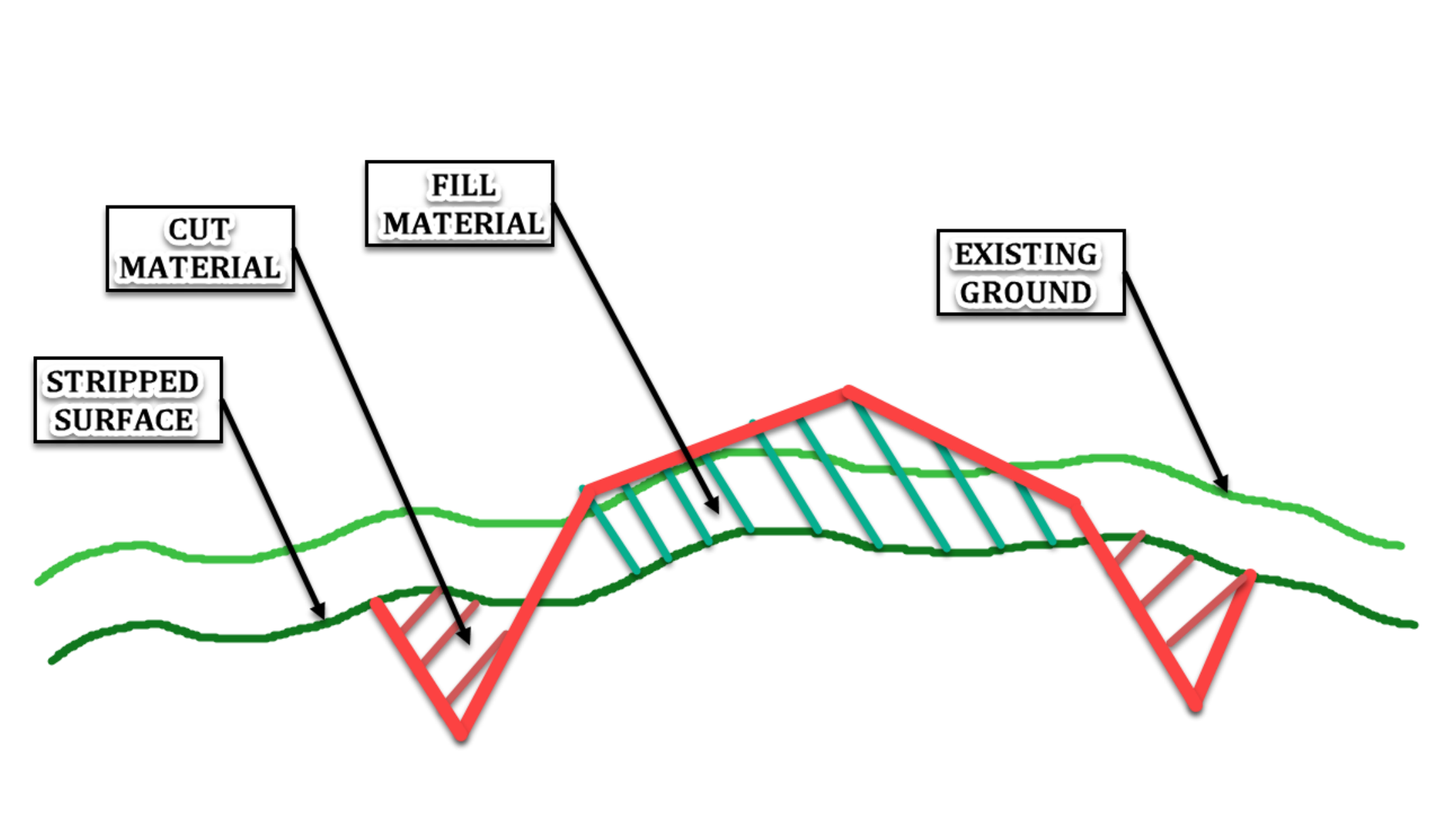 ---
Topic:  Civil 3D | Training:  Civil 3D Essentials  |  Software: AutoDesk Civil 3D
---
Refer a friend and both of you get access to our Civil 3D Courses at a discounted price.